How KYMC is Becoming The Leading Brand in The Industry?
November 15, 2017 | KYMC Marketing
2018-07-19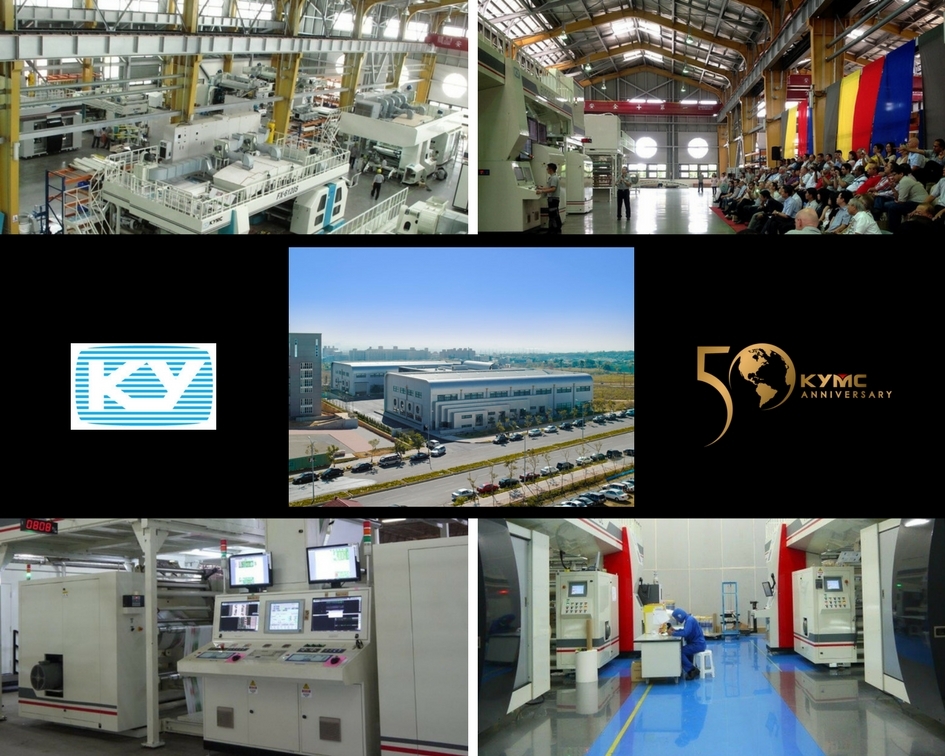 John Kortegast, Managing Director from Polyprint
"Prompt service of quoting and specification details supplied; impressed by KYMC sales and technical staffs willingness to assist with design variations to supply machinery to meet Polyprint's needs."

Albert Halimi, President from Command Packaging
"KYMC provided superior quality and value for their equipment. We were so impressed with the fist KYMC 8-color CI gear-less press we purchased a second one"
John Hadded, Director from The Paper Cup Company
"We chose KYMC as our press not once but twice, compared with the European brands, I found KYMC delivered just as much as the Europeans with much less on price."
Rajendra Mehta, Managing Director from Multiflex
"The best in terms of technology and personal relation"

KYMC was founded in 1968 as a small narrow web printing machine manufacturer in Taichung, Taiwan. The business did really well right from the beginning, at a certain point client lined up in front of our factory doors to wait for their orders. But KYMC did not stop there; the company maintained aggressive and continued to expand. Today, KYMC has grown into a global company with locations in Taiwan, India and the United States; partnering up with agencies around the world to serve our worldwide clients.

Our success didn't came out of nowhere. We continue to seek excellence in new technologies. We take our clients' needs as the priority, helping our clients succeed so we can be successful. Lastly, the reason for our success has everything to do with our values. The three main values that we emphasize constantly across the company includes becoming an innovative total solution provider to our clients, provide quality products and services to our clients at an affordable price and to be human-driven in everything we do.
Innovative Total Solution Provider
KYMC has positioned itself as a solution provider, not just a printing machine manufacturer. We work with our clients to develop solutions to meet today's challenges on quick job change, fast job set up, environment protection and energy saving…etc.
In recent years KYMC has ample of successful experience in helping our clients switching over from the rotogravure printing process to the flexographic printing process; to meet the trend of green production and zero VOC emission.
Our total solution team works hand in hand with our clients to make the transition as smoothly as possible. Starting with the targeted finish product, the team works with our customers on things such as pre-press, inks, plates, substrates, sleeves, anilox…etc. , to help our clients select the most suitable tools needed to reach their targeted result.
Quality Products and Service at Affordable Price
We want our clients to be profitable and to have fast return on investment; at the same time be able to get their hands on world-class machines at an affordable cost. At KYMC we work with world class component suppliers to ensure trouble-free operation in the long term. Together with our US and India team, our highly trained and experienced engineers work around the clock in different regions to support our clients 24/7, ensuring a prompt response to every request. We believe that upon each machine delivery does not mark an end, instead of a start of a long-term relationship. Our service team constantly communicates with our clients to make improvements on the existing machines. Regular machine
maintenance and evaluations are scheduled by our service team to help our clients keep their equipment operating at peak performance.
Human-Driven
Human-driven is the most important culture at KYMC. We repeatedly emphasize that anything we do is to serve people; to solve the problem from people's point of view. Never the less, we treat our client like family members. Our relationship with our clients goes beyond the machines. We take an extra step in helping our clients in their difficult times.
A few years ago, we had a client in Thailand that got their factory flooded during a flood. As result, two of the printing machines at the factory got damaged. Speed was everything since it was stopping the production line. KYMC had the press production process expedited with the first machine delivered within 2.5 months and the second machine delivered shortly after. During their downtime, KYMC helped this client digest their backlogs by going to our network in the local area for assistance.
Another recent case was a client in Syria. During the Syrian civil war, their factory got hit by a missile. Luckily no casualty was caused. However, the manufacturing plant was gone. KYMC provided financial aid to help the people fee from Aleppo to Beirut without asking for any return. Later, this client brought a few second-hand machines from Damascus; KYMC helped them to repair these machines for them to reboot their business. To this day, the relationship between both parties is like family.
KYMC Going Forward
To prepare for the future, KYMC has invested heavily in the development of Industry 4.0 presses, Digital printing and Flexible electronic applications. In the I.4.0 area, we are building all our machines to be available for online connections. Machines are built to connect with existing management systems such as ERP and CRM and with other production line machines. In digital printing, we managed to integrate the digital printing technologies into our flexo machines, increasing flexibility in production. For the flexible electronic application, KYMC has developed a machine to print RFID and is in the process to develop high-end metal mesh print by flexo.
Over the past 50 years, KYMC has acquired clients from various industries including packaging, labeling, medical and flexible electronics around the world. KYMC will continue to serve our clients with passion and to fulfill our clients' needs along with their path toward success.