KYMC Concludes A Successful 2017 with 5 New Press Installations in India
February 2, 2018 | KYMC Marketing
2018-07-17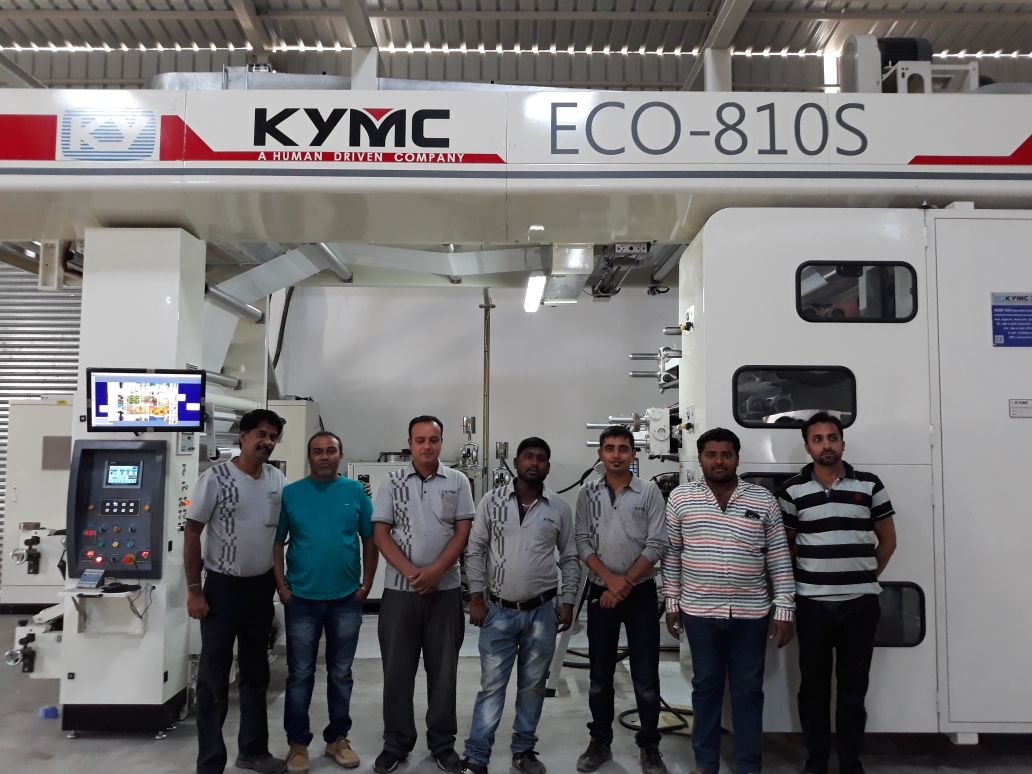 2017 was a busy year for KYMC in India as the company prepared and completed the installation of 5 print presses in India for various range of Flexible Packaging applications.
KYMC in India has the leading position in terms of the number of presses installed as well as the widest range of printing applications against their peers. The year started off with the installation of an 8 color press in New Delhi where this customer will target the growth of security bags application apart from the diaper packages printing.
Another customer that had kept a near monopoly in the breathable film for diaper backsheet segment installed 2 presses with KYMC India. One in Maharashtra and another one in Gujarat, both for projects catering to the hygiene industry. Supplying to leading FMCG companies like Unicharm, Kimberly Clark, P&G, J&J etc. With the breathable film being one of the most precision required films to be printing at a speed over 200mpm, KYMC India team's knowledge and expertise were put into play. Helping the customer initiating these presses into commercial production and training the customer's printing team to run the presses with confidence, at high productivity and quality.
KYMC India installed a high-speed dedicated press for printing on POF (Polyolefin) shrink and LDPE shrink film for a leading group in the Western region of India- a country's first. POF is a high slip and very soft material of 12 microns and up, which the KYMC team took up as a challenge. In the end, proven to be successful with acclamation from the customer.
KYMC India ended on a high note in December as the team installed a high volume 8 color press for a leading converter in Western Gujarat catering to the Milk and Oil package segment. The press was put into mass production on the 10
th
day after the installation initiation.
The coming year will be exciting for us as KYMC rolls out a special press for a unique paper printing application for one of India's biggest company and it will be the country's first. KYMC has a strong presence in the Indian region with a dedicated team for providing end-to-end solutions for high-quality flexographic printing locally. The team is strategically located in the West and South India for a quicker response time and personalized support. We provide our customer with the leading edge amongst their peers and a confidence to innovate with total support from the company. A highly experienced and motivated team is available at our client's disposal for assistance. Assistance from the selection of the machinery, installation, commissioning, manpower training up to the commercial press running.