Printing Excellence in India by Flexure Print N Pack
July 25, 2019 | Flexure Print N Pack LLP
2019-07-25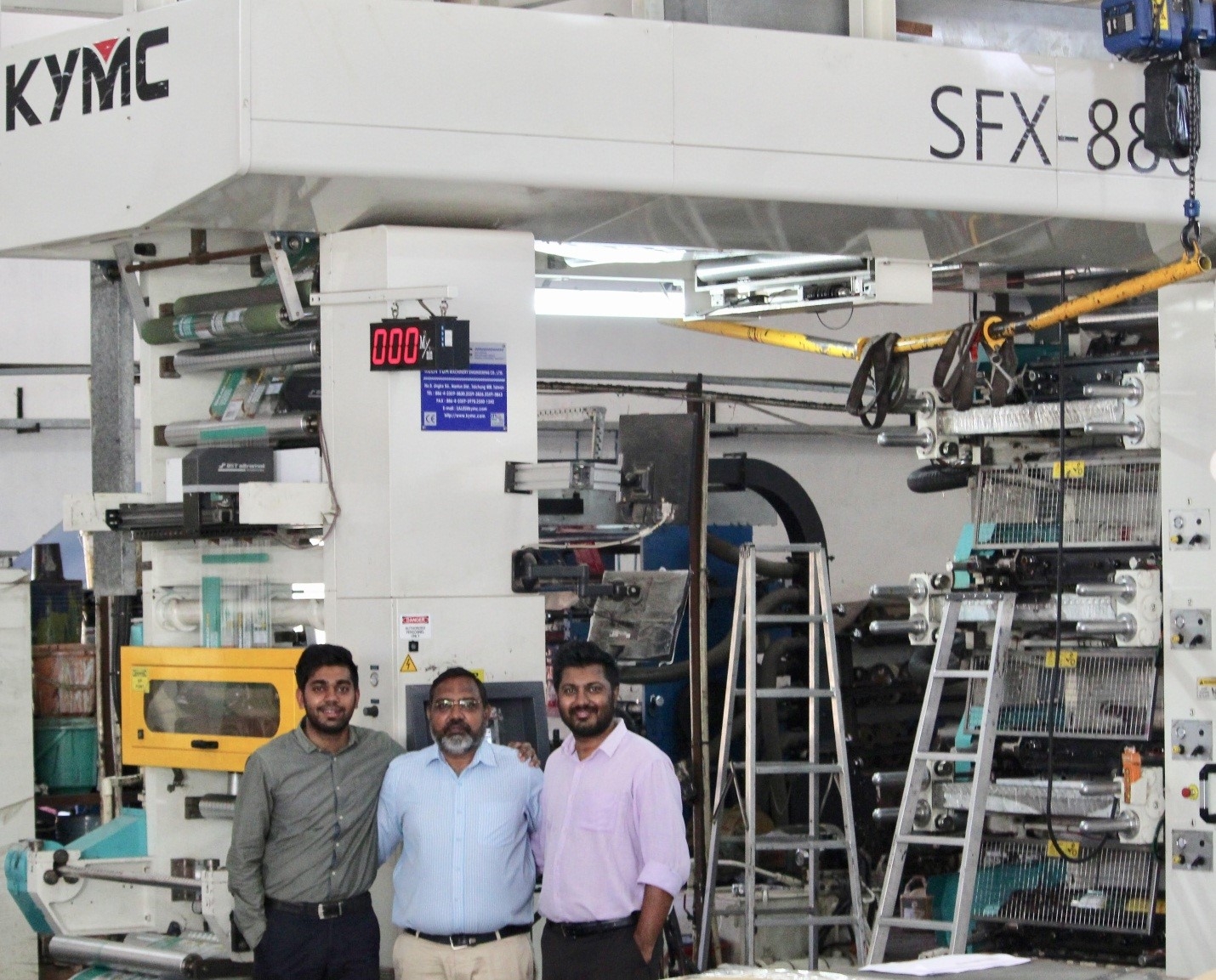 Flexure Print N Pack LLP is a 17 years old company providing flexible printing and packaging solutions to bakery, dairy, textile, frozen foods, packaged foods, agriculture, healthcare industries etc. Flexure Print N Pack believes in adding value to their customers' products and assists in distinguish their products from the competition by providing high quality multicolor flexographic printing and state-of-the-art packaging since printing and packaging has evolved into an important factor in a products' value chain. To accomplish this, Flexure carries all the necessary processes ranging from product definition to designing, printing, lamination, slitting, gusseting, bag and pouch making under one roof to ensure the quality throughout.
The road to KYMC Press and the results
After years of running Indian make Flexo Presses, Flexure team was looking out for the next investment into a sophisticated, well-proven press that can deliver high quality results on a wide range of flexible packaging materials. KYMC was known to Flexure since a long time and having heard success stories of Indian customers with KYMC Presses, Flexure was keen to explore the possibilities. After witnessing a KYMC Press running High-quality commercial jobs with speeds in excess of 200mpm at KYMC's well known customer in India, Flexure was convinced of the press stability, capabilities and its potential which was exactly what they were searching for. A well proven press coupled with total local support from KYMC India team assured Flexure peace of mind to go with an investment for their first imported press.
The KYMC Press was delivered and inducted into commercial production within a short span of a week and has been running at the highest performance levels since over 2.5 years. With the rich experience of Flexure team in Flexographic Printing coupled with KYMC's sophisticated press design, Flexure could explore opportunities in print markets they had previously not explored and could establish a niche for themselves. With dedicated efforts to explore the full potential of the KYMC Press and Flexographic technology, Flexure could achieve highest print quality results with screen ruling of over 175 LPI while reverse printing on PET and BOPP, which even established converters fail to attain with their high-end machineries. Standardizing 150 LPI for all print jobs is an achievement in itself along with successfully using 175 LPI for high-end jobs is a testament to the efforts, vision and ability of Flexure team. The right printing machine with standard High-Quality materials including Plates, Inks, Tapes and an in-depth understanding of Flexographic Printing technology has helped Flexure to achieve results which are outstanding and remarkable from the Indian Flexographic Industry point of view.
Flexure continues to service its customers in the Food Packaging, Textile, Agriculture and Healthcare industry with excellent printed results which are environmentally friendly than most other technologies like rotogravure printing at the same time being visually appealing and at-par in terms of print quality. As a part of future expansion and newer investments, an 8 Color High-performance Central Impression Flexographic Press from KYMC shall be soon added into Flexure's fleet of Printing presses.
The Flexure Print N Pack LLP People
Mr. Ketu Shah, Founder and Chairman of the company has always believed in the 'Quest for Excellence'. A man who started his career with simple trading of polyolefin plain and printed roll stocks and bags has reached to become one of the most trusted and passionate solution provider for flexographic printing solutions nationwide, while pursuing ethical business practices. After years of trading and gaining sufficient knowledge, Mr. Shah in the year 2002 bought Indian make first 6 colored open chambered Flexographic Printing Press with the aim of making his company enter the global market. Today, Flexure Print N Pack has in total four Indian make and one KYMC, Taiwan make stack type flexographic printing presses and wide range of converting machineries to cater to the requirements of flexible packaging market. Mr. Shah has ensured strong growth, adapted newer technology, enhanced value for money and most importantly created environmental awareness which has led Flexure to achieve enormous goodwill.
Mr. Jainam K Shah, Director of Technology, who has pursued post-graduation in Print Technology from Germany, is extremely passionate about Flexographic Printing. He is young and one of the strongest pillars in the second generation of the organization. Mr. Shah having technical expertise insists on Flexography as it ensures the ability to print on wide range of plastic films as well as paper. Finer quality, shorter lead times, quicker print job changeovers, better pre-press inventory management, higher throughput are some of the benefits in comparison with other traditional and contemporary printing processes, he explains. Mr. Shah says, there are wide range of parameters and variables to be engineered on a flexographic printing press to attain the best and precise printing results. Few of these parameters for every print job include selection of anilox roller in relation to the screen ruling of photopolymer printing plate, selection of mounting tape hardness based on the design, values of tension and temperature for sensitive plastic films, minutest required printing pressure in an order for the smallest dot in highlight areas as well as largest in shadow areas to get transferred onto the substrate with the lowest dot gain.
Mr. Rohan K Shah, Director of Sales, who has pursued graduation in Business Administration from the prominent Ahmedabad University, brings with him the zest and enthusiasm to make the organization enter the global market to achieve what they have aimed for. Mr. Shah, with great sincerity takes responsibility of project management, sales and business development which ensures the smooth functioning of the organization. Mr. Shah being the appropriate bridge between the organization and the clients have resulted in the exponential growth.
Article by Flexure Print N Pack