A Slitting Machine Much More Than Slitting
June 23, 2022 | KYMC Marketing
2022-06-20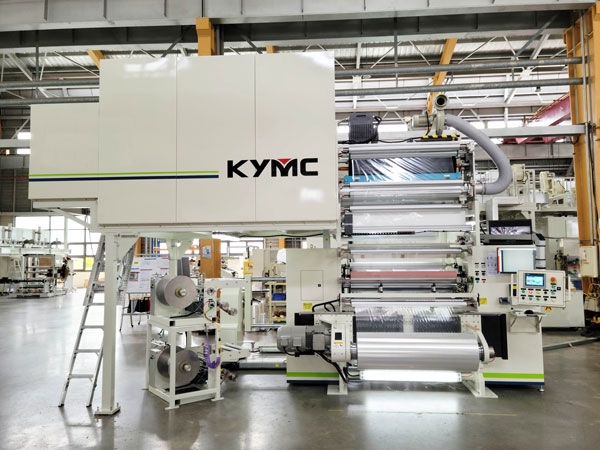 Why go for a piece of custom-made machinery? Well, this depends on your application. If you are looking for a general solution, then a standardized machinery from the market may suffice. However, if you are looking for a multi-functional equipment, an out of the norm specification, and a solution to greatly boost your production efficiency so you can beat your competition, then you may consider a piece of custom-made machinery that is optimized for different challenges.
Don't get me wrong. I'm not an advocate of custom-made machinery. The reason is that as good as a custom-made machine may sound. It is not without risk. When not designed and built in the right manner, the different functions of the machine may not integrate harmoniously. This will lead to operating issues and therefore poor end results. A custom-made machinery only demonstrates its maximum potential when designed and built right.
At KYMC each of our custom-made machinery is designed so that the different functions are ensured to work in synchronization. To provide various functions but integrated as ONE. What does ONE refer to? ONE includes the integration of different controls into each of the HMI control panels. ONE includes the integration of different functions through electronic signals, so each part's movement is interrelated and dependent on the other.
A custom-made KYMC slitter with various integrated functions provides high flexibility and a wide working range for its users. To provide a wide tension range, wide substrate thickness range, and a wide working width range.
To provide a taste of a custom-made KYMC slitter. Below is the highlight of a slitter that is custom designed and built by KYMC for a multi-national giant in the packaging industry.


Wide Working Ranges
Wide working substrate thickness range from 12 microns (PET) to 750 microns (PVC/APET).

Wide working width range of 300mm to 1300mm.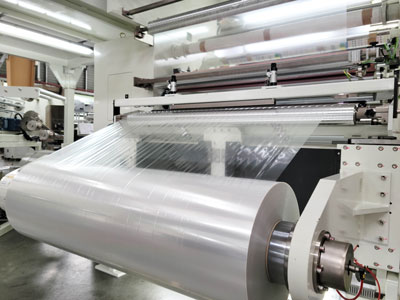 Shaftless Chucking Unwind
Integrated Controls and Functions
Integrated BST inspection system for graphic monitoring at both the back and the front for maximum efficiency (including mark sensor).

Integrated corona treatment system.

Integrated camera system for knife position and status.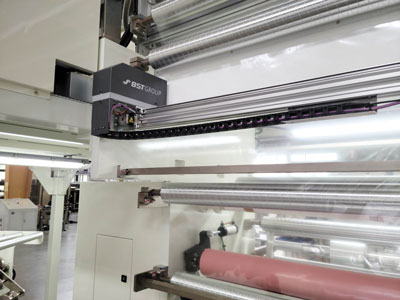 BST Inspection System


Integrated Monitors & Controls


Switching Between Utilities for Maximum Flexibility
Equipped with the rotary shear knife and razor blade for different jobs.

Capable of controlling the web tension through a choice of speed control or choice of torque control depending on the application.

Providing female rollers including various aluminum rings of different width ranges during rotary shear knife usage. At the same time providing groove rollers during razor blade usage.


Groove Rollers & Aluminum Rings


Functional Enhancement
Pneumatics type rotary shear knife for smoother slitting. Especially for thicker and stronger substrates that are harder to slit through.

Auto reel pusher for unloading slitted materials.

Semi-automatic turret carousel for unloading slitted materials.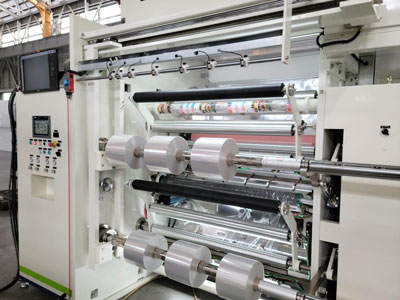 Auto Reel Pusher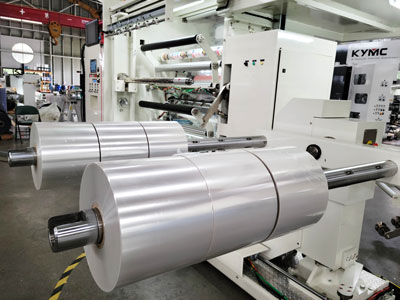 Semi-Automatic Turret Carousel
Other Customization
Custom designed second floor electrical cabinet due to space constraints at the customer site.

Laser perforating can be integrated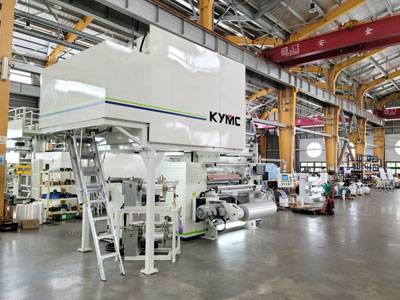 Second Floor Design
KYMC has continuously demonstrated its customization capability to the market. To design and build machines that are multi-functional yet integrated as ONE. To provide the market with complex machines yet easy to operate. The machines are highly flexible for different job scenarios, yet robust and stable for taking on each challenge.
This is how we define a slitting machine that is much more than slitting, a printing machine that is much more than printing, a coating machine that is much more than coating...etc. You name it, we build it.